CURSED is the eagerly awaited sixth book in the epic New World Series of time travel thriller novels.
Available in Hardback, Paperback and Kindle formats.
After escaping Tudor England with little more than the shirts on their backs, the New World's remaining crew face a wilderness with no guides, no friends, no map.
All Tim Norris' hopes for their future seem dashed. Desperate to avoid losing the friends he has left, his past, at least, will not leave him alone. He turns to the one man who might help, but James Douglas has problems of his own.
Back in the Cretaceous Period, the Schultzes problems are of their own making. A whiff of rebellion is in the air as the colonists tire of paying the price for their leaders' private vendettas. 
Together, Heidi and her grandfather continue intriguing to corrupt an innocent future timeline, but while mutiny and mutual distrust lead Heinrich to make private deals with devils, Heidi's fury brings the entire planet to a tipping point.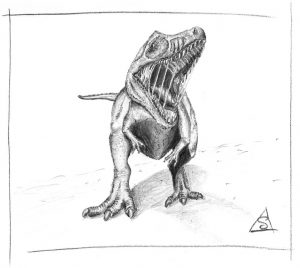 "Spaceships, wormholes and dinosaurs! Don't miss it."
"When I first heard about DINOSAUR I immediately thought that it would be along the lines of 'STAR TREK meets JURASSIC PARK with a soupcon of JAMES BOND'. Well, I was wrong! It is much much more than that. It is an excellent adventure story in its own right, packed with action, suspense, humour and emotional drama played out by a wonderful gallery of characters."
"This series gets more intense with each offering. Gobsmacking!"
"Bombastic! Epic! Full of big ideas! Dinosaur is a thrilling read told on a huge scale. A massive spaceship packed full of characters is all set for a new life in space - but instead drops through a wormhole and ends up on prehistoric Earth. Stranded, struggling to survive, these people have a major problem to contend with: they're marooned on the planet of the dinosaurs! Stephen Llewellyn clearly knows - and loves - his dinosaurs, and that knowledge and passion shines through. The result is a big, bold adventure - and yet one that very much fits the mould of classic science-fiction, some very clever protagonists responding to a crisis by breaking it down into problems to be solved. Dinosaurs! Crashed spaceship! What's not to love?"
*******************************
The New World Series:

AD2112, and one of the darkest political movements in recent history hides in the shadows, once more poised for a second stab at power. However, an accidental discovery leading to time travel emboldens them to think even bigger – and their plan is simple: erase everyone, start again.

The crew of the USS New World are thrown into a nightmare. Finding themselves initially in the Cretaceous Period, they must survive. A ruthless enemy presses them constantly, and collateral damage seems inevitable as they begin the journey home to an unknown future.

*******************************
Other titles in the New World Series